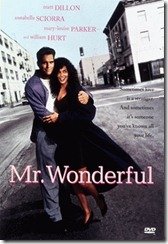 I recently watched Mr. Wonderful (1993) again after many years and thoroughly enjoyed it more than ever before. I think this is an extremely underrated movie by Anthony Minghella who went on to win the Oscar for the English Patient a few years later. I absolutely loved this movie starring Matt Dillon and Annabella Sciorra plus a fantastic supporting cast of likable, realistic characters. That's the key to an excellent movie, the strength of the entire cast. You can have solid leads and a good story but if the supporting players are weak then the experience falls flat. That's not the case with this totally believable and enjoyable tale. Mary-Louise Parker is perfect as Matt's understanding girlfriend as she senses something's wrong in paradise. All of Matt's friends are just as delightful and so real. Yes, I might be biased because I related so much with these people since I grew up in the italian section of Newark, NJ. It felt like home. So comfortable. I highly recommend it.
Here's the trailer that explains what the movie is about.
Here's a good scene when Matt Dillon has to endure watching his ex-wife sing with another man.
Excellent job of acting by Dillon as you can see how much he still feels for her.