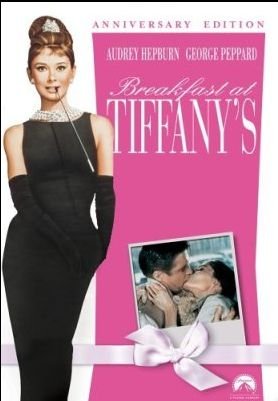 Breakfast at Tiffany's is another one of my favorite movies. It isn't just because I'm a huge Audrey Hepburn fan (though that's a major part of it), but mostly because everything about the movie was wonderful. Starting from the very beginning with Henry Mancini's timeless "Moonriver" and the scenes of Audrey roaming the deserted streets of New York City in the early 1960s.
I also loved George Peppard who was never better than he was in this role as a kept man and struggling writer who finally meets the woman of his dreams. The story behind the movie is just as interesting as it was written by Truman Capote with Marilyn Monroe in mind for the Holly Golightly lead role. As much as I loved Marilyn, I think no one could've done it better than Audrey.
Here are some clips from this classic movie. The final sequence in the cab and in the alley as it rains is one of the best movie endings ever. The speech Paul gives Holly in the cab is a gut-wrenching and unforgettable scene. Audrey's expressions made the scene all the more moving and memorable.
The trailer

Audrey singing MoonRiver

The end sequence including the memorable speech from Peppard to Audrey.

Here's the scene
[THUNDER]

DRIVER...

PULL OVER HERE.

YOU KNOW WHAT'S WRONG WITH YOU,

MISS WHOEVER-YOU-ARE?

YOU'RE CHICKEN.

YOU GOT NO GUTS.

YOU'RE AFRAID TO SAY,
"O.K., LIFE'S A FACT."

PEOPLE DO FALL IN LOVE.

PEOPLE DO BELONG
TO EACH OTHER,

BECAUSE THAT'S THE ONLY
CHANCE ANYBODY'S GOT

FOR REAL HAPPINESS.

YOU CALL YOURSELF
A FREE SPIRIT,

A WILD THING.

YOU'RE TERRIFIED
SOMEBODY'S GOING TO

STICK YOU IN A CAGE.

WELL, BABY, YOU'RE
ALREADY IN THAT CAGE.

YOU BUILT IT YOURSELF.

AND IT'S NOT BOUNDED
BY TULIP, TEXAS,

OR SOMALILAND.

IT'S WHEREVER YOU GO.

BECAUSE NO MATTER
WHERE YOU RUN,

YOU JUST END UP
RUNNING INTO YOURSELF.

HERE. I'VE BEEN
CARRYING THIS THING

AROUND FOR MONTHS.

I DON'T WANT IT ANYMORE.