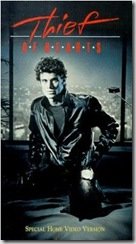 Thief of Hearts (1984) is one of my favorite guilty pleasures. People always smirk or laugh out loud whenever I tell them how much I enjoy this movie and its music. They usually stop when they realize that I'm not pulling their leg or they start laughing even harder…but that's all right. I don't care really because I like what I like. I feel the same way about another 80s classic, FlashDance and its wonderful soundtrack.
I really liked Steven Bauer in the lead. I was certain he would become a big star but despite a steady working career (mostly on TV), he never did become a major leading man like many of his contemporaries. He was in Scarface with Al Pacino and was married to Melanie Griffith for several years. I also enjoyed his co-star, Barbara Williams who was believable as the lonely wife who shared her deepest secrets in her diary that the thief stole and used as a map to her heart.
A young David Caruso also starred in this movie as Bauer's law-breaking partner in crime. As you know, he went on to do quite well with a couple of TV shows.
Interesting note about the writer-director, Douglas Day-Stewart. When I looked at his resume I was pleasantly surprised to see that he also wrote some of my other favorite movies from my youth. Besides Thief of Hearts (1984) he also did:
An Officer and a Gentleman (1982) The Richard Gere/Debra Winger classic.
The Blue Lagoon (1980) The Brooke Shields nekked on a desert island movie
The Boy in the Plastic Bubble (1976) The TV movie starring a young John Travolta who married the much older woman who played his mom. She lost her battle with cancer a few years later on while they were still together. She was also the mom in eight is enough.
The Music
Here are several selections from the original motion picture soundtrack that I really like.
It strongly features Harold Faltermeyer who's done many excellent soundtracks and experienced major pop success with hits such as Axel F from Beverly Hills Cop and the Top Gun theme. I think I really like his music because it reminds me a lot of Giorgio Moroder's style. It makes sense because he actually worked with Giorgio on a few projects such as the soundtracks for Midnight Express, American Gigolo and Foxes).
Here's a playlist of the music and video clips from Thief of Hearts