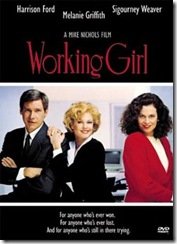 I really enjoyed "Working Girl" (1988) starring Melanie Griffth, Harrison Ford and Sigourney Weaver. All three were wonderful in their roles and the two ladies were even nominated for Oscars that year. Even Alec Baldwin shines in his turn as Melanie's sleazy boyfriend!
The music by Carly Simon "Let the Rivers Run" is a perfect backtrack for this female Rocky in the corporate world tale. The love story triangle adds a lot of interest too.
There are so many things I love about this movie. I think it's a bit personal for me because I experienced my own version of the story regarding success in the corporate world. After school I jumped into carpentry and construction for the big bucks but soon realized that I wasn't happy strictly working with my hands. I wanted to use my brains too. I ultimately gave up the cold hard cash and went back to school and took up computer programming and the rest as they say was history! I can so relate to the ending of this movie! I never take it for granted whenever I go to work. I always remember what it was like when I had back-breaking jobs like roofing, ditch-digging laborer, carpenter, etc. I am always thankful and grateful for my career including those tough jobs because it's made me so appreciative of everything.
Here are my favorite clips