As of right now, arguably this generation's greatest soccer player Lionel Messi has retired from playing with his national team Argentina. This was an awful decision he made following their defeat in the 2016 Copa America to Chile in the dreaded Penalty Shoot-out once again just as they did to Chile at the 2015 Copa America finale. This was the third year in a row for painful defeat for Messi and Argentina as they lost another heartbreaker at the 2014 World Cup finale vs Germany who scored a miracle goal with only minutes left in extra time as it appeared they were headed to a penalty shoot-out.
Yes, few players have ever suffered such incredible losses three years in a row as Messi has done. Add to it the loss he and Argentina suffered to Brazil in the 2007 Copa America finale so that makes it 4 losses in a row in the finals and zero for 7 in major competitions. Now we are talking epic failure on the scale of teams like the Buffalo Bills in American football who lost 4 SuperBowls or the Minnesota Vikings who also lost 4 SuperBowls in a row. Still, Messi's reaction has been more disappointing than all the losses and even his missed penalty kick in the Copa shoot-out.
Here's Messi with some of his many awards that he's won while playing for Barcelona in Spain. His teams there have won many championships because they've spent a ton of money on surrounding him with the world's best players from other countries such as Louis Suarez from Uruguay and Neymar from Brazil. They've become soccer's equivalent to the Yankees.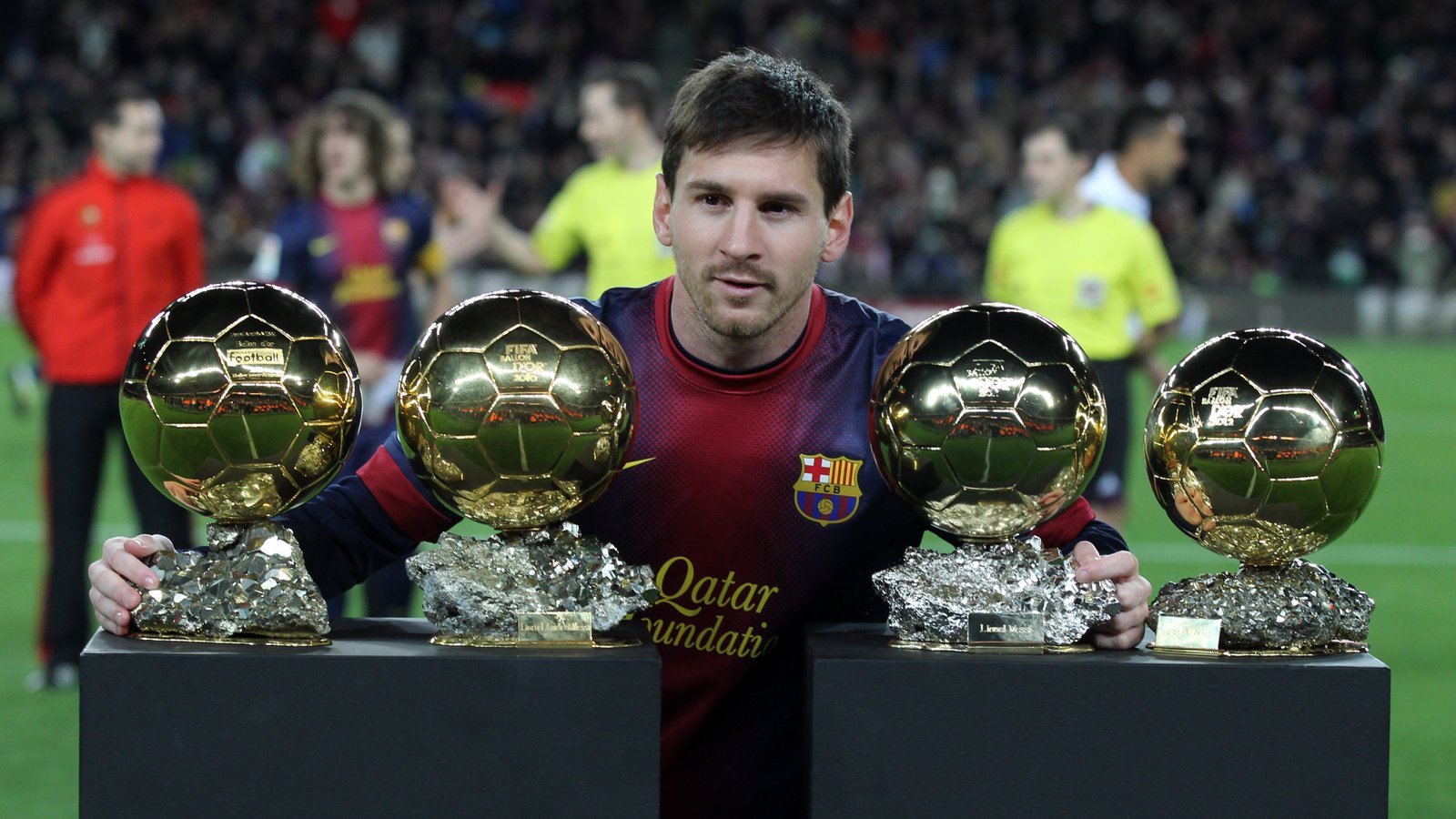 Contrast this image with Messi's visage after Argentina's results at the following competitions.
First, the 2014 World Cup where Germany scored that unbelievable goal very late in the match to steal away the trophy. Messi had a chance to score late too but he just missed the goal. His teammates missed some golden opportunities as well so they cannot say they did not have the chances to score and win.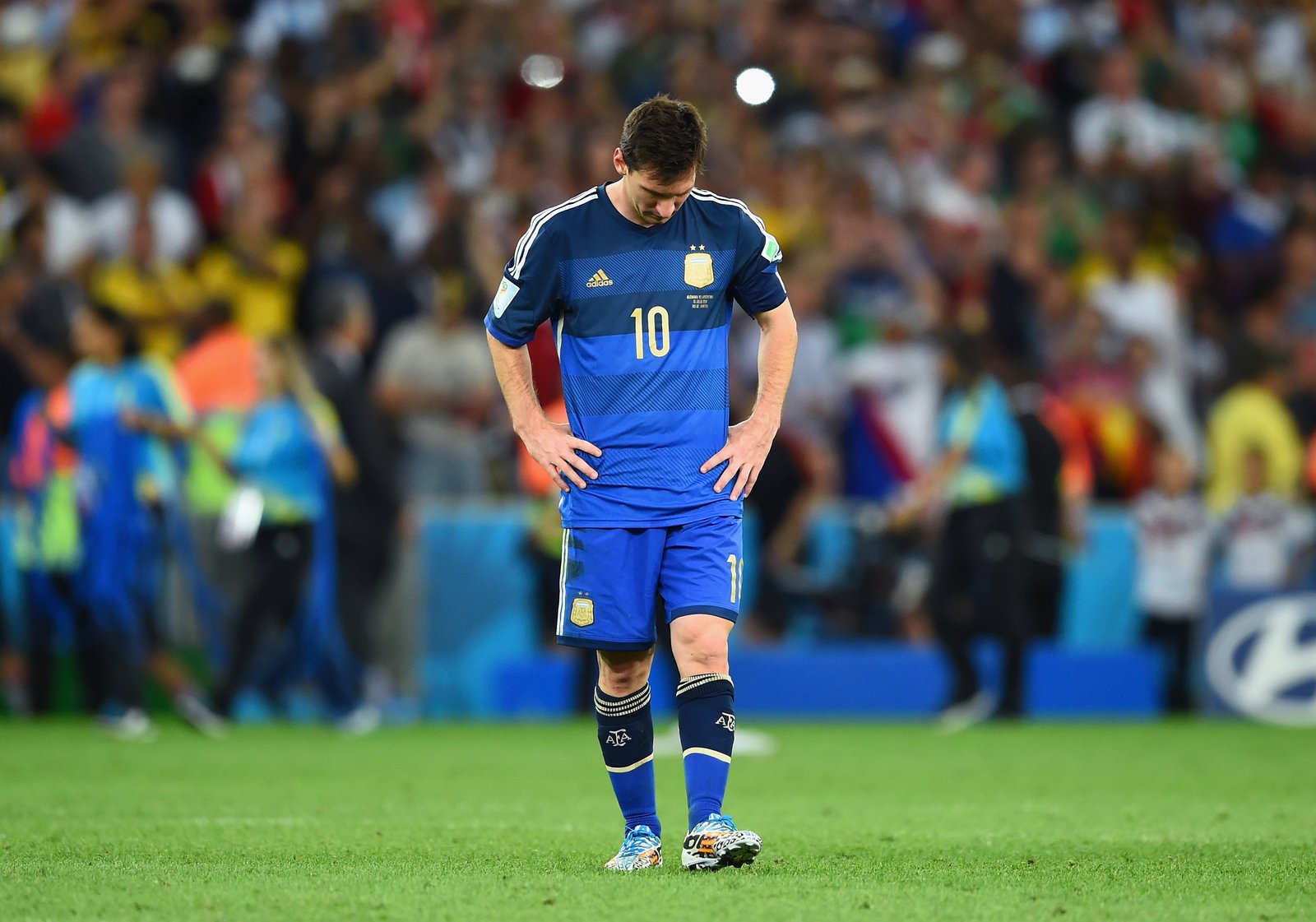 Here's a video clip of the stunning miss by prolific scorer Gonzalo Higuain vs Germany that could've wound up winning the World Cup. He was all alone…one on one vs the goalkeeper but shanked it.

Messi also had a chance to win the World Cup with this clear opportunity that just missed!

Might as well show you the goal that took away the World Cup from Messi and Argentina. It came very late in extra time as both sides were already thinking about the penalty shoot-out as no one could score….until this amazing goal.

Here's Messi after the shocking 2015 Copa America final when Argentina lost to host country Chile. Argentina had run roughshod over every other team so they were the odds on favorites to hoist the cup but somehow they came up short again. This time in the awful penalty shoot-out as neither team could score.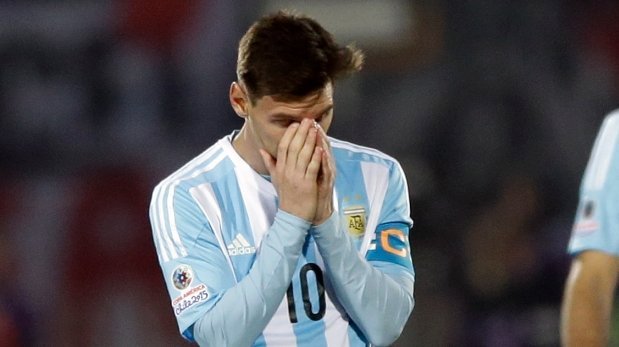 I need to share this video clip of what happened at the end of the 2015 Copa America match. Time was running out and Argentina made an incredible last run to win it. Messi made a beautiful patented pass to set it all up on a silver….or should I say golden platter. However, his teammates once again let him and their country down. Most people criticized Gonzalo Higuain for not making this shot but I have to be honest with you and say that Lavezzi should have taken the wide open shot that he had instead making the bad pass he made to Higuain. It was an impossible angle for Higuain to score from. Lavezzi had a one on one chance to score on the goalkeeper but he did not seize the moment and elected to make the difficult pass.

Take a look at this still frame shot of Lavezzi and the goalkeeper before the pass. He clearly had a tremendous chance to win it for Argentina.

Here's the other end of the play which shows how little room Higuain had to score the goal.

After the disappointment of winning the Cup at the end of the match, Messi and Argentina still had the chance to win it in the penalty shoot-out. Chile was eliminated from the 2014 World Cup by host Brazil in the penalty shoot-out just a year earlier so this must have weighed on their minds and nerves greatly. They also had the pressure of performing before their home crowd but none of that mattered as Argentina missed a few penalty kicks and lost 4-1!
Here's the miss from Higuain…. checkout Messi who does not hide his emotions at all.

Here's Messi from the recent Copa America 2016 after missing his penalty kick. It certainly factored in his horrible decision to quit his national team.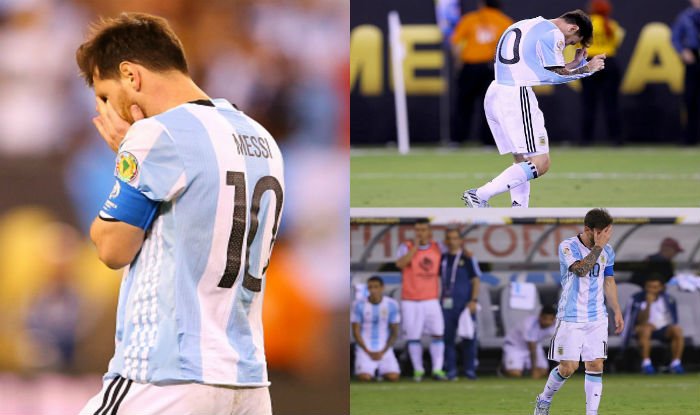 You won't believe this but checkout this video clip of the incredible miss by Argentina vs Chile by none other than Gonzalo Higuain again. Yes, the same man who missed the opportunities vs Germany in 2014 and Chile in 2015.

Here's another near miss for Argentina as the great Sergio Agüero came within a whisker of winning the 2016 Copa America with this beautiful header but the Chile goalkeeper saved it with his fingertips.
Here's the penalty Shoot-out between Argentina and Chile with the infamous miss from Messi. Take note that he missed the first kick but they were still in it because Chile had missed their first kick as well so it wasn't his miss that did them in like the miss from Roberto Baggio at the 1994 World Cup final that cost Italy the title. Speaking of Baggio, he admitted that it took him years to get over the pain of missing that penalty kick and losing the World Cup in 1994. He made his PK in the 1998 World Cup vs France in front of hostile home crowd but Italy was eliminated from the World Cup for the third time in a row thanks to awful penalty kicking. Baggio eventually overcame the anguish by learning this lesson, "The only players who miss penalty kicks are those brave enough to take them".

So how did the world's best player handle another painful setback? Well, we've all seen the painful images of him in anguish but here's his ill-advised retirement announcement.

The Bigger Miss by Messi
Many believe Messi is making a massive mistake by the way he's letting his emotions dictate his actions after suffering another major disappointment. Yes, it's fine to wear your heart on your sleeve and show the world how much winning means to you but Messi's decision to step away from his national team at only age 29 is just awful for many reasons. The main reason is because it's a golden opportunity to show young people how to handle defeats and heartache in a classy manner. You could show them that you have to endure the pain and get right back up again and keep on trying to reach your dream. Others have demonstrated this very well like speed skater Dan Jansen who lost many chances at Olympic gold medals when he was the favorite but then one day when no one thought he could ever achieve this dream he did it! Here's the golden moment:

Others have endured with class like Jim Kelly the quarterback from the Buffalo Bills who lost 4 SuperBowls in a row and they never did win the big game but he never quit trying. He was resilient and so were his teammates.
Messi will tarnish his legacy forever if he does not change his mind and return to his national team for the 2018 World Cup and 2019 Copa America. I believe he will snap out of this self-pity period and come to his senses and lead Argentina to the promised land. They are still the number one ranked team in the world according to FIFA. I believe they will win the World Cup and Copa America but only if Messi learns to overcome his grief and perseveres.
Some thoughts on the Messi vs Ronaldo Rivalry:
Messi's greatest rival for the label of greatest player of this generation is Cristiano Ronaldo. Messi has won 5 Fifa Balloon D'Or (Golden Ball) vs Ronaldo's 3. Each have won many trophies in their club soccer career mostly in Spain's La Liga. We all know about Messi's 4 losses in a row for Argentina in major tournaments but let's see how Ronaldo has done in his career as he has not been able to win a championship for his country either which is Portugal.
2004 Euro Cup: Ronaldo came closest of all to winning a championship for Portugal in the 2004 Euro Cup when it was held in his own country and they made the final and they were the heavy favorites over a scrappy Greek team but Portugal was upset 1-0. Ronaldo was only 19 so he thought he would have many more chances.
2006 World Cup: Ronaldo guided a beautiful and talented squad to the 2006 World Cup in Germany all the way to the semi-finals where they were robbed by the referees who gifted Zidane a penalty kick and France eliminated Portugal 1-0.
2008 Euro Cup: Ronaldo came up short again at the 2008 Euro Cup by losing to Germany 2-3 in the Quarter-finals.
2010 World Cup: Portugal made it out of the group of death with Brazil but lost to eventual World Cup champions Spain 1-0 in the round of 16. Once again Ronaldo did not score.
2012 Euro Cup: Portugal once again lost to next door neighbor Spain on penalty kicks in the semi-finals of Euro Cup 2012 (Spain went on to beat Italy in the final).
2014 World Cup: This time, Ronaldo and Portugal didn't make it out of the group stage of the 2014 World Cup because Germany (eventual champions) and the USA made it out instead.
2016 Euro Cup: Ronaldo scored a 2nd half goal and assisted on another to get Portugal into the championship match at the 2016 Euro Cup vs France. All eyes will be on this showdown but most pundits are predicting France to win the cup. Should Portugal and Ronaldo come up short again I do not expect him to react the way Messi has done. He will cry as before and make excuses as he has done over and over again over the last 12 years but he will not quit. He could very well be 0-7 on the national stage and 0-2 in the finals. Messi is 0-7 counting 3 quarter-final losses in 2006 & 2010 World Cup and 2011 Copa America held in Argentina.
UPDATE on 7-10-2016: Wow! The 2016 Euro Cup was a stunner! Portugal beat France 1-0 in France! They did so without Ronaldo who was injured early in the match too! They played stellar defense and incredible goalkeeping! Then they scored in extra time by a substiture to win it!!!! This means Ronaldo has finally won his much sought after major championship even though his team got it without him on the field. Go figure. So now he owns what Messi doesn't….for now….unless this forces him to reconsider his retirement and try again in 2018 at the next World Cup. Every soccer fan hopes he will come back.
So here are the totals for Messi and Ronaldo when it comes to the performances of their teams in major competitions (World Cup, Euro Cup and Copa America). Messi is 0-7 and Ronaldo now 1-6.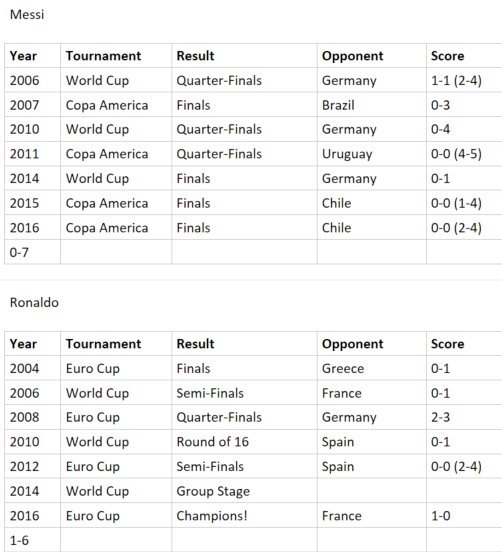 Notice some patterns here. Germany has had the better of Argentina 3 times and Portugal once. Also take notice of the anemic offensive output of both teams especially the usually potent Argentina squads that scored only 1 goal in its 7 losses and none in its last 6 elimination matches! That is unbelievable.
Note: It was announced today that Messi was sentenced to 21 months in jail in Spain for tax fraud committed by him and his dad.  However, it is believed that he will not have to serve any jail time because it was his first offense. It was not a good day for Messi as he also had to deal with the news that his arch rival and nemesis Ronaldo scored to take his country to the championship match at the Euro Cup. When it rains it pours.