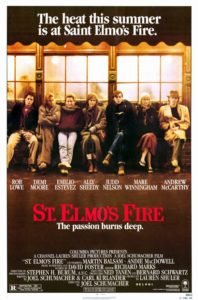 One of my favorite movies and a vastly underrated one is "St. Elmo's Fire" (1985). Yes, it featured what was then called the Brat Pack (under-handed slap in the face reference to the Rat Pack with Sinatra & Dean Martin). The Brat Pack consisted of young actors, i.e. Demi Moore, Alli Sheedy, Emilio Estevez, Rob Lowe and others.
Anyway, this was their crowning achievement. Ok, that's not saying much. Still, I really enjoy this movie. I think it's because it brings back such great memories of the 80s. I also enjoyed the whole vibe of the movie. It was about a bunch of 20somethings right out of college full of hope and ready to conquer the world. I was a little younger than they were but I understood the whole feeling.
The trailer

For example, one of the sweetest moments comes in the following scene. Mare Winningham portrays a rich young woman who refuses to take money from her dad and wants to make it on her own. She works at a shelter for practically no money and gets a tiny little apartment. In this scene she's near tears describing how happy she was making a peanut butter and jelly sandwich in the middle of the night because she realized it was her apartment and it was the best sandwich she ever had. Poignant scene. Monumental for everyone that finally moves out on their own in this life.
In this clip, before this scene, Rob Lowe talks to Demi Moore and reveals what the title of the movie means.

I also love the music soundtrack for the movie. David Foster's love theme is magnificent and I even enjoy John Parr's St'. Elmo's Fire (Man in Motion) rocker that was a big hit. The movie was set in Georgetown and around our nation's capital.

Most people don't know that this love theme has lyrics and there's a version with vocals called "For Just a Moment"

What's the meaning of life?

I love this scene when Kevin tells Leslie how he feels about her. He then says "We won't remember anything we said tomorrow" and she replies "It is tomorrow"

Man in Motion by John Parr