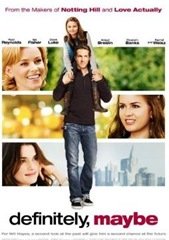 Definitely, Maybe (2008) caught me by surprise. I liked the people that produced it because they were behind some of my favorite movies (Four Weddings and a Funeral, Nottinghill, Love, Actually, etc.) but other then that I didn't know anyone else involved with the film. Didn't know the director, the stars and anything.
Well, I loved the movie anyway. Ryan Reynolds was charming as the lead as was little miss sunshine Abigail Breslin. I also adored the girls he loved especially Isla Fisher as the effervescent April. 
It was an unusual love story as he turned it into a detective story for his daughter and in the process realizes how much he really cared for one of them. Oh, the music was also another wonderful element to the movie. From the beginning title sequence where he plays Sly and the Family Stone's "Everyday People" to the very end title sequence where Badly Drawn Boy's "The Time Of Times", the music enhances the story.
Here's the trailer followed by the music video for The Time of Times.
Badly Drawn Boy's "The Time of Times"