BRIGHT STAR (2009) is as beautiful and as moving as the real life romance between poet John Keats and his beloved muse Fanny Brawne which is the focus of the film. Jane Campion, director of "The Piano" wrote and directed this masterpiece of the heart with brilliant colors and exhilarating depths of emotions. She never rushes anything and does not milk any scenes for more than they're worth which is very difficult to do. You're left satisfied but always wanting a bit more at the same time which is difficult to explain or understand.
I've always loved the poetry of Keats but never knew about this incredible love affair that inspired his best work for the final three years of his short life. He died at only 25 from consumption which was basically tuberculosis. It's just such a tragedy that so many gifted geniuses like Keats perished because the physicians and medicine of the time were so weak. Still, I am thrilled to know that he did experience such a glorious love. He used to mock others for their silly feelings of love and always felt uncomfortable around women but that all changed when he fell in love with Fanny.
Fanny was such an extraordinary person in her own right. She was not the typical woman of her time and place and even made her own clothing and enjoyed learning new things such as poetry. In one of my favorite scenes they discuss poetry.
Fanny Brawne: I still don't know how to work out a poem.
John Keats: A poem needs understanding through the senses. The point of diving into a lake is not immediately to swim to the shore but to be in the lake, to luxuriate in the sensation of water. You do not work the lake out, it is a experience beyond thought. Poetry soothes and emboldens the soul to accept the mystery.
Fanny Brawne: I love mystery.
Another favorite scene (and there were many!) was this one from the first letter to Fanny.
"I almost wish we were butterflies and liv'd but three summer days – three such days with you I could fill with more delight than fifty common years could ever contain."
These quotes were outstanding too
"I am certain of nothing but the holiness of the Heart's affections and the truth of the Imagination."
"A thing of beauty is a joy for ever:
Its loveliness increases; it will never
Pass into nothingness; but still will keep
A bower quiet for us, and a sleep
Full of sweet dreams, and health, and quiet breathing."
"I cannot exist without you – I am forgetful of every thing but seeing you again – my Life seems to stop there – I see no further. You have absorb'd me. I have a sensation at the present moment as though I were dissolving… I have been astonished that Men could die Martyrs for religion – I have shudder'd at it – I shudder no more – I could be martyr'd for my Religion – Love is my religion – I could die for that – I could die for you. My creed is Love and you are its only tenet – You have ravish'd me away by a Power I cannot resist."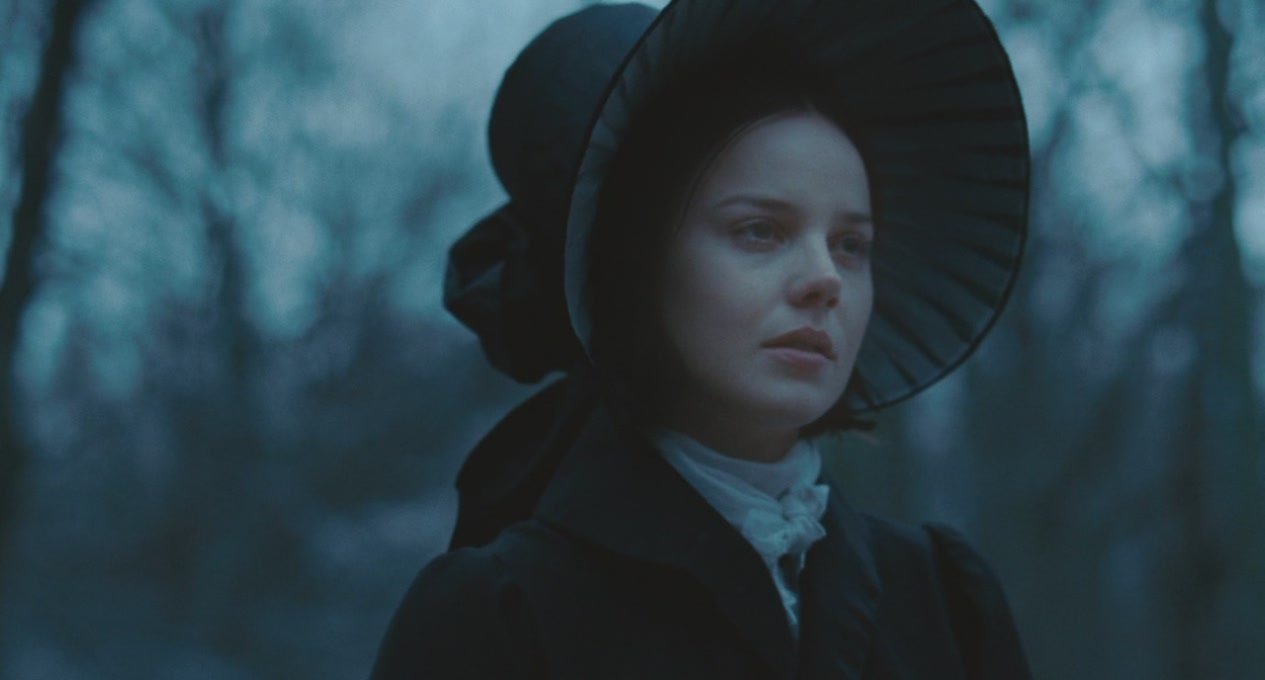 The two leads were wonderful as Keats and Fanny. Ben Whishaw gives a subtle yet powerful turn as the poet and Abbie Cornish is the perfect angel that he calls Bright Star. There is a chemistry that lights up the screen.
The scenes where Fanny reads his letters are spectacular. Jane Campion uses luscious imagery that only compliments the majestic beauty of his words such as the use of butterflies and brightly colored flowers in the field. The music adds yet another layer of emotions to this gorgeous painting of the heart.
I know the film did not do great box office nor did it garner the same amount of critical acclaim as Jane's previous works but to me this is one of my favorite movies of all-time. It touched me deeply and I believe changed me in some profound ways. What more can you ask for?
Here's a playlist I've curated with videos about Bright Star. It includes scenes from the movie, the trailer, interviews of the director and the cast and more.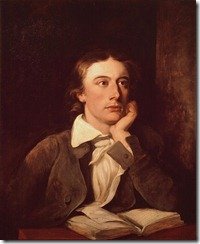 Portrait of John Keats by William Hilton. National Portrait Gallery, London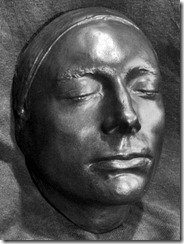 John Keats life mask by Benjamin Robert Haydon (1816) from the author's private collection

Ambrotype of Fanny Brawne, lover of John Keats, taken circa 1850 (photograph on glass).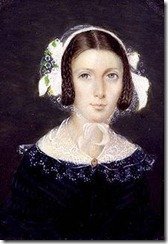 Watercolour of Fanny Brawne, 1833. This was done during her emergence from her six year long mourning over the death of her beloved Keats. She eventually married and had children. She passed away at the age of 65.
Bright Star
Bright star, would I were stedfast as thou art–
Not in lone splendour hung aloft the night
And watching, with eternal lids apart,
Like nature's patient, sleepless Eremite,
The moving waters at their priestlike task
Of pure ablution round earth's human shores,
Or gazing on the new soft-fallen mask
Of snow upon the mountains and the moors–
No–yet still stedfast, still unchangeable,
Pillow'd upon my fair love's ripening breast,
To feel for ever its soft fall and swell,
Awake for ever in a sweet unrest,
Still, still to hear her tender-taken breath,
And so live ever–or else swoon to death.
The complete screenplay for Bright Star!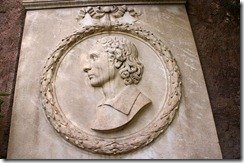 John Keats' tombstone. He died on 23 February 1821 and was buried in the Protestant cemetery, Rome, Italy. His last request was to be buried under a tombstone, without his name.
On his grave is written:
This Grave
contains all that was Mortal,
of a
Young English Poet,
Who,
on his Death Bed, in the Bitterness of his Heart,
at the Malicious Power of his Enemies,
Desired
these Words to be engraven on his Tomb Stone:
Here lies One
Whose Name was writ in Water.
~
24 February 1821