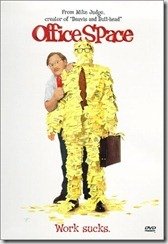 I'm an I.T. professional and many of my colleagues have given me a hard time through the years for not seeing the 1999 movie "Office Space". I finally gave in to see what all the fuss was about and I was blown away by how much I loved it. Not only was it funny, thanks to Mike Judge (who did Beavis & Butthead, The Family Guy, etc.) but it captured the true essence of working in corporate America. Yes, it was over the top and the characters were cartoonish at times (it was born in a comic strip called Milton, after all) but that's what makes Office Space such a cult classic.
Ron Livingston was wonderful in the lead and so was Jennifer Anniston in a superbly laid back role. Gary Cole was amazing as the annoying boss from Hell…and Stephen Root was hilarious as Milton. The rest of the casting was also incredible as every single one of them was perfectly selected. David Herman as the other Michael Bolton (the nerd who loves hip hop music) and the break dancing Samir played by Ajay Naidu. I also thought Peter's mullet-wearing neighbor was fantastic (Diedrich Bader).
Over a decade later and the film's popularity continues to grow thanks to video/DVD rentals and Netflix. Many of the lines from the movie has slipped into every day vernacular. They had a 10th anniversary special for the cast of Office Space where they shared memories of their experiences working on the movie. Here are some clips.