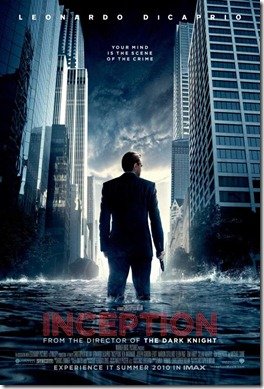 I just saw INCEPTION and I have to say that I was blown away. It was even better than I expected. Director Christoher Nolan and Leonardio DiCaprio should both win Oscars for this work. Nolan should also win for his intricate, thought-provoking mind-bending screenplay that took 10 years to craft (and it shows by the levels of detail throughout!). I also loved the entire cast which was extremely strong: DiCaprio, Ellen Page (Juno), Joseph Gorden-Hewitt (500 days of Summer), Marion Cotillard as the wife and Tom Hardy who was a revelation as Eames the forger.
The music by the legendary Hans Zimmer is also powerful and deserving of Oscar recognition. His music adds so much to the movie that it becomes like another major character in the story. Each piece is so perfect for setting the mood and enhancing the experience. That's everything you could ever want for a motion picture soundtrack. I find myself listening to the music all the time now, including the track called TIME.

A good sign of a great film isn't the box office numbers (look at the insane totals for the braindead Pirates of the Carribean series and many others) but by the intense debates and reactions by movie goers after they've seen the film. That's what's happening right now with Inception as countless people are discussing every tiny detail of the story, trying to figure things out and possibly find the true meaning of the ending.
The best place to see this entertaining and enlightening debate in action is over at ScreenRant in their piece about the Inception Ending Explained. Tons of fans are sharing their thoughts and theories about the meaning of not only the ending of the movie and the movie itself but about life itself. It's very fascinating stuff and all generated by the marvelous mind of one Mr. Nolan.
One of the interesting theories was by someone who focused on the name of the lead character, Dom Cobb.
Anyone explored metaphor of Dom Cobb (dom – domicile, kingdom, home) (Cobb – nickname for Jacob) aka Jacob's home or ladder parallelism? In Genesis, Jacob dreams and in it God makes an inception into Jacob by telling him:
"I am the Lord, the God of Abraham your father … the land on which you lie I will give to you and to your descendants; and your descendants shall be like the dust of the earth… will bring you back to this land; for I will not leave you until I have done that of which I have spoken to you."
… then Jacob awakes up and :""Surely the Lord is in this place; and I did not know it…This is none other than the house of God, and this is the gate of heaven."
Note: I don't know if this is related at all but there is a scene when Dom explains how he and his wife were like GODS creating their own world in their dream.
Here's another theory that's very interesting as well: Never Wake up the meaning and Secret of Inception.
This one builds the case around a comment from DiCaprio who compares Nolan's Inception to Fellini's 8 1/2 and lists all the ways that this movie was really about the process of making movies. Cobb is the director, the architect is the screenwriter and so on. It's all very fascinating.
I could go on and on about how fantastic this movie is but you just need to see it and feel it for yourself. Most people are feeling and thinking the same about about this masterpiece. Of course there will be those that won't like this type of cerebral entertainment but that's fine, we all have our own tastes. All I know is that this is a special experience that will need a few viewings to fully appreciate and understand. It's something that will stay with you forever.
Spoiler Alert! Here's the haunting and chilling ending which is unforgettable no matter what you believe it all means. I changed my mind about the ending many times and finally made a decision about it. I realize that it doesn't really matter either way just like real life itself.

Here's a playlist of many clips and the making of Inception plus more goodies

Update: Inception was nominated for Best Picture Oscar as I expected but it lost to an inferior movie. What really was a travesty was the fact that Christopher Nolan wasn't even nominated for Best Director which was insane. Many people agreed with me too. His screenplay should've won too. Hans Zimmer lost for soundtrack too.