So the look on the faces of the Argentinian players wasn't just exhaustion and sadness but also one of disbelief and shock. These guys were on a mission and truly believed they were going to become World Cup champions and nearly pulled it off if not for a miracle goal at the 113th minute by Mario Goetze. The numbers don't lie. Check it out.
So out of their last 41 matches over the last 3 years (2011 through 2014) they've only lost 5 times! Twice to Brazil, once to Venezuela and Uruguay and then the loss to Germany in the World Cup final. They had also been on an 11 match unbeaten streak and only lost once (to Uruguay 3-2) since September 2012!
26 wins  10 ties and only 5 losses in 41 matches over the last 3 years!
If you stretch it out even further until their humbling exit from the 2010 World Cup where ironically Germany (basically the same players) crushed them 4-0, Argentina's record is still rather impressive even over a 4 year period.
34 wins 15 ties and only 9 losses in 58 matches over the last 4 years!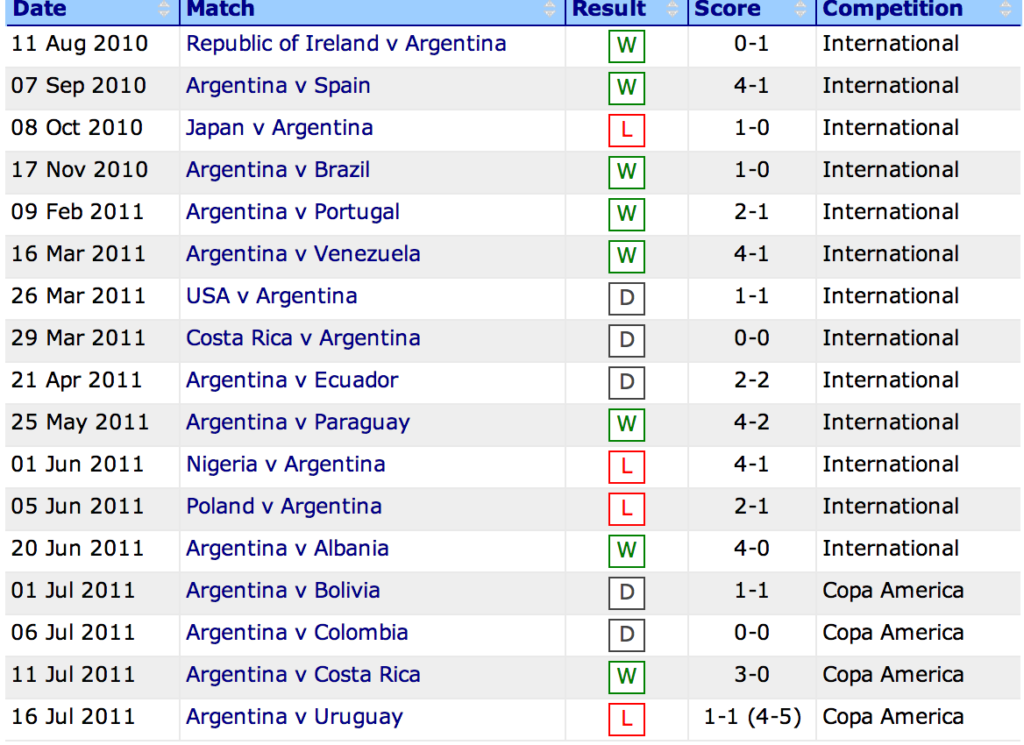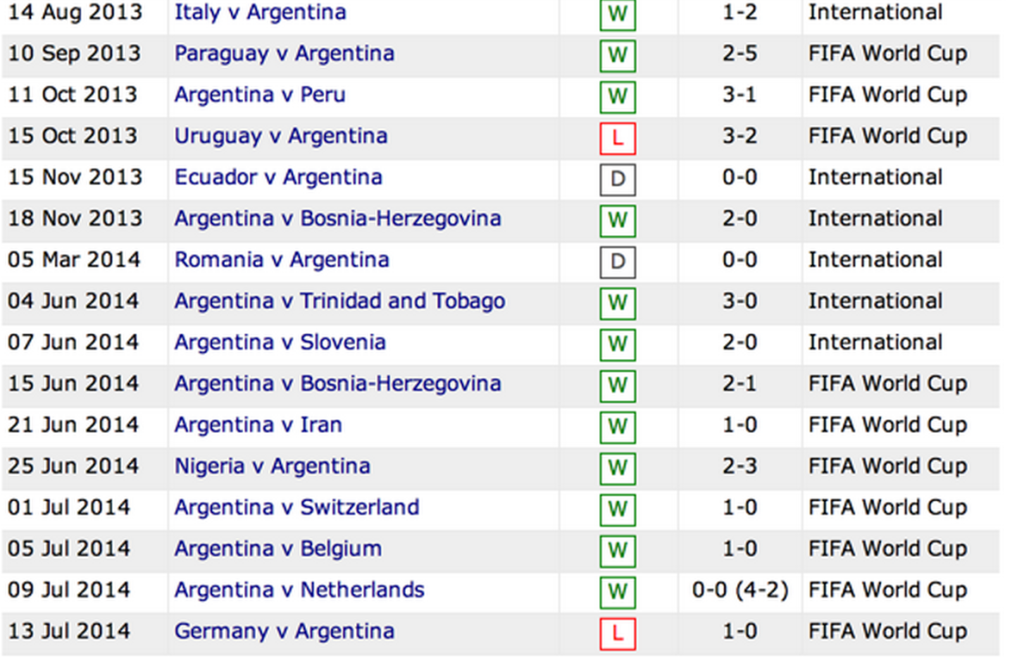 Here's a match between these two same teams, Germany vs Argentina with basically the same players with completely different results. Argentina won handily 3-1. Checkout the goal at the end of the game by Mario Goetze! It was a beautiful unique goal much like he created in the World Cup.

I'd also like to discuss Brazil, the host of this past amazing World Cup that were one of the favorites to win it all until Germany destroyed them 7-1 in front of their country and the whole world. They like Argentina were on a roll…perhaps even hotter.
Before its public flogging by the Germans they were on a 14-match unbeaten streak (Argentina had an 11 match streak) which included 13 victories and one tie…the last time they lost was almost a year earlier in August 2013 1-0 to Switzerland!
Over the last 2 years leading up to the World Cup in their homeland Brazil was on a roll. This included winning the Confederations Cup over Spain 3-0 at home in Brazil. Spain was the defending World and EuroCup champions. Brazil's record over this 2 year period was:  26 wins 7 ties & only 2 losses in 35 matches over 2 years!  Argentina was 26 wins  10 ties and 5 losses in 41 matches
 Here's the entire finale between Brazil and Spain in 2013 Confederations Cup

Here are the highlights