I could not believe that I was routing for the Boston RedSox to win tonight even though I'm a lifelong Yankee fan. Why would a true pinstriper fan ever do such an unimaginable thing? Well, trust me, I had my reasons and I'll explain it in a minute. What made this extra painful was the fact that a win by Boston would eliminate my beloved Yankees and end their 13 year streak of making the postseason, one year short of the Atlanta Braves mark of 14 years in a row (1991 to 2006).
OK, what could possibly make me do such a dastardly thing? Well, it involves the amazing 1978 season when the Yankees made the greatest comeback in baseball history by over-coming a 14 1/2 game deficit to the same Boston Red Sox in late July no less. The comeback involved the infamous Boston Massacre in which the Yanks swept a four game series at Fenway to wipe out the four game lead the Red Sox owned at the time.
On a personal note, my little brother and I actually saw Ron Guidry pitch against the Red Sox on September 15, 1978 for our first Yankee game ever. Guidry pitched a two-hit shutout as the Yanks won. He had nine shutouts that year.
The most important part of that incredible season was the ace of the staff, Ron Guidry. He was known as Louisiana Lightning and the Ragin' Cajun. His best game came when he struck out 18 Angels batters. He eventually won the Cy Young Award and almost the MVP. He kept the team in the thick of things by winning even when they were struggling.
Ron Guidry's .893 winning percentage for his 25-3 season in 1978 is the current record for the best winning percentage by a 20 game winner. It has remained the standard for 30 years now. Some pitchers have come close to breaking his record but no one has been able to do it yet.
Well, tonight, 9/23/2008, Cliff Lee's attempt to break the record was thwarted by the Boston Red Sox, ironically enough! Here we are thirty years later and Boston helps a Yankee legend keep his record for at least another season. It was such a nail-biter too. Boston lead 2-0, then fell behind 4-2 and then jump ahead 5-4 and the Indians loaded the bases in the 8th inning. All they needed was a hit and Cliff Lee would be off the hook and on pace to break the record. He was 22-2 and all he would have to do is not lose this game and he would be king. However, Boston summoned their ace closer Papillon because they knew the win would clinch a playoff spot for them and eliminate their rival Yankees. Papillon got out of the jam and closed the deal in the 9th and saved the record for Ron Guidry by dropping Cliff Lee to 22-3. I was never so happy to see the Red Sox win and will never pull for them again! I promise!
Note: Cliff Lee finished at 22-3 to finish tied for 3rd best season of all-time with an .880 win percentage.
Ron Guidry's stats for that magical 1978 season:
| | | | | | | | | | | | | |
| --- | --- | --- | --- | --- | --- | --- | --- | --- | --- | --- | --- | --- |
| TEAM | W-L | PCT | ERA | G | CG | SHO | IP | H | ER | HR | BB | SO |
| Yankees | 25-3 | .893 | 1.74 | 35 | 16 | 9 | 273.2 | 187 | 53 | 13 | 72 | 248 |
Here is a list of the Best Seasons for 20 game winners along with the Louisiana Lightning's miracle season at the very top of the heap. Note: Only Sandy Koufax from 1963 and Joe Wood from 1912 had more shutouts than Guidry (11 & 10 to  9) and only Dwight Gooden from 1985 had a better ERA (1.53 vs 1.74)

Honorable Mentions:
Greg Maddux and Randy Johnson each had incredible seasons in 1995 with an astonishing record of 19-2 and 18-2 respectively which were both higher than Guidry's mark but each fell short of 20 wins which is the criteria for this record. It's worth mentioning because 1995 was a strike-shortened season so Maddux and Johnson weren't given a full shot at the mark. Who knows where they would've finished up that season.
At the top of this honorable mention list is someone named Roy Face who went 18-1 in 1959 for the Pirates for an incredible .947 win percentage.
Orel Hershiser is best known for his record-setting shutout streak in 1988 that still stands today but his best season according to win percentage was in 1985 when he went 19-3.
Close Calls
2001 Season by another Yankee pitcher:
Roger Clemens was in line to break the record in 2001 when he was 20-1 and a .952 winning percentage, but he lost his last two games to finish at 20-3 .869! Close, but no cigar. Ironically enough, he started his career with the Boston Red Sox but was pitching for the Yankees in 2001. He won his only World Series titles with NY in 1999 & 2000.
*Update: 9/10/2013*
5 Years after the 2008 Cliff Lee close call another challenger to Ron Guidry's record season falls by the weigh side as Detroit's Max Scherzer lost his second game in a row to fall to 19-3, thus making his bid impossible. He was 19-1 at one point and on pace to surpass Ron Guidry but then history repeated itself as in 2008 when the Boston Red Sox wound up helping Guidry and the Yankees by defeating Scherzer last week in a 2-1 thriller! That made him 19-2 so he was still able to break Guidry's record if he won another game and didn't lose again. However, Chicago beat him last night 5-1 and pretty much ends his amazing challenge. At best, he could finish up at 23-3 if he wins 4 more starts which falls short of Guidry's 25-3! So thanks to Boston (again!) and Chicago!
Note: Max Scherzer finished 21-3 in 2013.
*Update 8/17/2014*
A year later since the last challenger and another serious heir to the throne goes down last night. L.A. Dodgers ace, Clayton Kershaw had an incredible 11-game winning streak snapped last night 3-2 by the Milwaukee Brewers. His record was 14-2 so now it becomes 14-3 and pretty much ensures that Ron Guidry's magical season will remain on top for an amazing 36th season in a row! Clayton does not have 11 starts left so he cannot even tie Guidry's mark. I think he will most likely finish at 21-4 which would be outside of this elite list with an .840 winning percentage. If he finishes at 20-3 or 21-3 then he can finish in the top 10 for sure.
Note: Kershaw finished 21-3 in 2014 for .875 win percentage which is tied for 4th best season ever.
*Update 8/22/2015*
For the third year in a row there has been a serious contender to dethrone Guidry. This time it's another LA Dodger, Zack Greinke who was 13-2 going into this contest vs the Houston Astros riding an 11 game winning streak. He held Houston to only 3 hits but 2 of them were homers and the Astros pitching held LA to only one run and thus dropped Zack to 13-3. Without 12 more starts left in the season it means he will not be able to match or beat Guidry's mark.
Note: 9/18/2015 Zack won his 5th straight decision since his loss to Houston, bringing his record to a gaudy (but not quite Guidry) 18-3! He might have 3 starts left so the best he could do is finish at 21-3 like Cliff Lee and Max Scherzer.
*Update 10/9/2015*
Zack only managed to win one more game the rest of the season to finish at 19-3 for a win percentage of .864%
*Update 2016 Season*
I have to admit that the 2016 baseball season had the biggest group of outstanding pitchers on pace to break Guidry's win percentage record that I've ever seen. Usually, as you have seen from this article, there are always a couple of incredible pitchers every year that have amazing seasons but for some reason 2016 had a whole slew of pitching aces. For example, here's a look at the records for a long list of pitchers that were on pace to break Guidry's record.
As you see, there were 11 pitchers who had a mathematical chance at the record but realistically there were only six that had a true shot at it. Let's be honest here, the 5 pitchers with 3 losses already were not going to run the table the rest of the season which is what they would have to do to break Guidry's mark. For example, the 9-3 pitchers would have to win 16 in a row just to tie Guidry's 25-3 record! So I didn't worry about them at all… so that knocked down the list from 11 to 6 which was much better to digest.
I didn't know this Chris Sale pitcher at 13-2 so he was problematic for me. I did know Jake Arrieta from the Cubs who won the 2015 Cy Young and he was 11-2 already so he concerned me. Also a problem was Clayton Keyshaw who has won a few Cy Youngs already for the Dodgets and he was having an even better season than usual at 11-1 so this one bothered me the most of all. Cuerto at 11-1 and Tillman at 10-1 had amazing records but I didn't feel they could keep that pace up. Strasburg at 10-0 was alarming because he was healthy (which he never is) and he was on a division leader (Washington). We would have to see how they all held up.
July 8, 2016
OK, couple weeks later I checked again (because I'm a masochist) and much to my chagrin the list didn't shrink much. It only went from 11 to 10 pitchers who still had a shot at the record. There were 4 pitchers with 3 losses already so that still meant 6 pitchers still had a good chance at the mark. The good news is that Jake Arrieta suffered another defeat to make him one of the 3-loss pitchers at 12-3 which meant he would need to win 14 in a row to beat Guidry which was unlikely. Chris Sale moved to 14-2 which is what Guidry was at one point in 1978 so this bothered me. Strasburg went to 11-0 which really irked me but Kershaw lost a 2nd game so he fell to 11-2 which made me feel better.
July 20, 2016
Chris Sale lost another game so he fell to 14-3 which was a relief. He would need to go 12-0 to break Guidry's record. Arrieta lost again so he had 4 losses and officially out of the running. Kershaw was injured so he was stuck at 11-2. Strasburg amazingly remained undefeated and climbed to 13-0 which made me VERY nervous! This was not good. He could go 7-2 and break the win percentage record for a 20-game winner easily. Cuerto and Tillman were each 13-2 which had them in the mix but I was fixated on the 13-0 mark.
August 3, 2016
Strasburg became human and finally lost a game but he also won a couple more so he was 15-1!!! This was very disturbing for me. The others at 14-2 and 14-3 didn't bother me as much.
August 22, 2016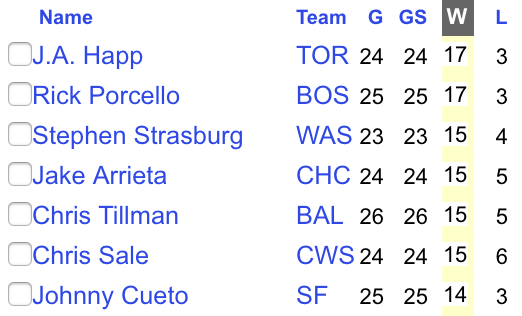 As you can see, I am feeling MUCH better these days as Strasburg has lost 3 in a row to drop to 15-4 and no longer a threat to Guidry's record. As for the two pitchers at 17-3, while they technically have a mathematical shot at the mark of 25-3 they do not have enough games left in the season to even get 8 more decisions never mind 8 more victories. We are in late August so the most they could get would be 7 more starts so they could finish at 24-3 which is just short of the mark. Phew!!!!
August 26, 2016
And then there was one… Yes, Toronto's Happ lost his 4th game of the season so he is officially out of the chase. That leaves only one pitcher which a chance to tie or break Guidry's mark of 25-3 and that is Boston's Porcello who sticks to 17-3 after a no-decision in a Red Sox loss. I think he only has 6 games left in the season perhaps 7 so even if he runs the table he'll finish with 24-3…. just short of the Guidry mark. So one could say I am feeling very good about the streak reaching 38 years! I know someone will break the record someday but I am hoping it won't happen in my lifetime or at least until after the 40th anniversary which will be 2018.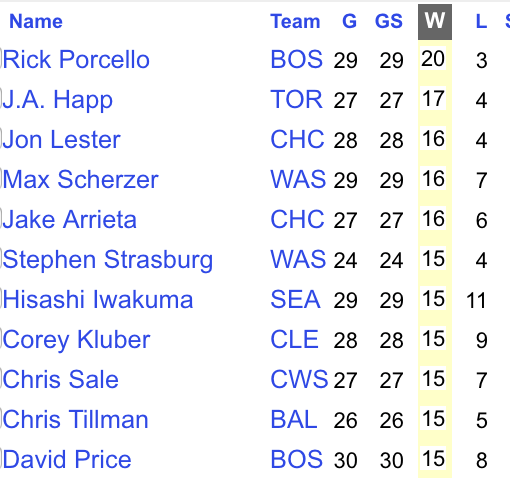 Boston's Rick Porcello has hit 20-3 but it's 9/10/2016 so he really doesn't have enough time left to catch Guidry's 25 wins. Still, I'd feel better if he wasn't so close.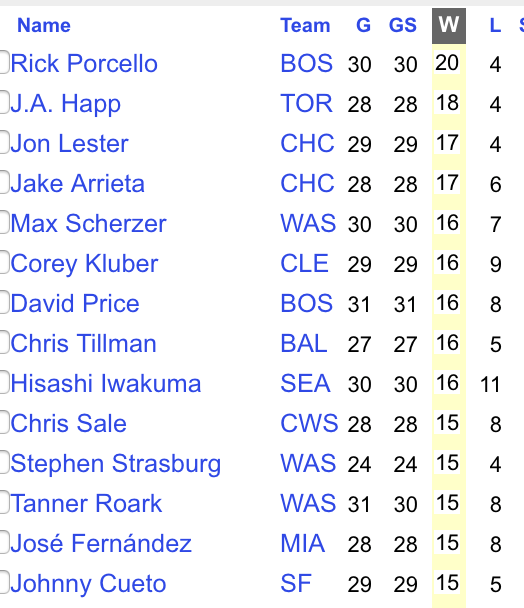 OK, it's 9/15/2016 and we can officially claim that no one is going to break Guidry's record this season for best winning percentage ever for a 20-game winner as Boston's ace lost his 4th of the season, finally. I know it's silly and dumb but I celebrated with a few yippies!
*Update 2017 Season*
I decided not to document the whole season this time. I will say that for the 5th season in a row I was very concerned about Guidry's record. The top 3 serious contenders who looked like they could do it were:
Clayton Kershaw (LA Dodgers)
Alex Wood (LA Dodgers)
Dallas Keuchel (Houston)
Early on Dallas was the best pitcher in baseball before he got injured when he was 9-0 and completely dominating every game he pitched.
When he returned a month and a half later he was no longer the same and he has done 3-3 since the injury so he stands at 12-3 now.
Alex Wood of the Dodgers was a surprise standout by going 11-0! He was even outshining his more famous mount mate, Clayton Kershaw.
Eventually Wood also missed some starts due to injury and finally lost a couple of games so he stands at 14-2 which is still great but it's 9/8/2017 so he doesn't have enough games left to finish 20-2 which would break the record.
Now to Clayton Kershaw (again) who has been the usual amazing ace that everyone expects. He also missed a few weeks but when he returned he didn't skip a beat unlike Dallas…. he raised his mark to 16-2 with plenty of games left on 9/1/2017 but he finally lost his 3rd of the season last night so he's 16-3 now. The best he could do now is 20-3.
So, the good news is that Ron Guidry's mark will actually make it to the 40th anniversary next season for 2018!!!
I plan and hope to complete my book based on the 1978 Yankees in time to celebrate the 40th anniversary of that magical season.
I also plan to include this article (blog post) with all of its silliness.
***Update 2018 Season***
The Tampa Bay pitcher Snell was the best shot at Guidry but finished with 21-5 mark so it wasn't really that close. Mikolas from the Cardinals was 18-4 but that was under 20 wins. So 2018 was an easy season regarding Guidry's record. It wasn't like the previous few seasons.
***Update 2019 Season***
2019 wasn't as nerve-wracking as other seasons because the best pitchers lost most of their games early in the season. For example, here were the top 10 pitchers from both leagues.
Houston's two aces finished with the most wins. Verlander was 21-6 and Cole was 20-5. Cole actually 1-4 and 4-5 by May 22, 2019 and then went 19-0 before losing in the World Series ending a 5-month win streak! Phew! If he didn't have such a terrible start, who knows what would've happened. Yankees pitcher German was 18-4 so he had a good run at Guidry's mark for a while.
So the record continues into the 2020 season! From 1978 to 2020, Ron Guidry has owned the mark for the best pitching season ever.
I know that someone will break this record–heck, most people don't even know it even exists and those who do know about it don't think much of it.
I only care because it's tied to my youth and that special season. I just wanted his record to make the 40th anniversary and it has. I am a happy man.
Hall of Fame Status


I firmly believe that Ron Guidry belongs in the Hall of Fame for his brief but powerful career that compares very well to other Hall of Famers such as Sandy Koufax and Left Gomez!
I will cover this in more depth soon. In the mean time, checkout what baseball reference has to say about it.