I just watched one of the best documentaries ever. Woody Allen: A Documentary which is streaming right now on NetFlix. I highly recommend it even if you're not a big Woody Allen fan like I am. It is full of rare exclusive things like footage of his mom, sister and looks at his creative process like how he comes up with ideas and how he writes which is first by hand and then he types it up on a manual Olympia typewriter that he's used for 60 years for all 40 of his screenplays and everything else he's written from the age of 16 to 76!
Images: Woody's trusty typewriter and the stacks of ideas for other stories he jots down by hand. Every year he goes through his stacks and tries to find the story he wants to tell.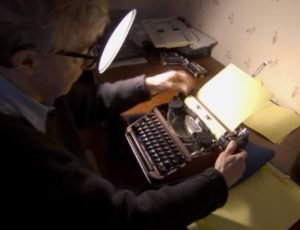 Checkout his incredibly prolific career where he's averaged a film per year for over 40 years. Of course they weren't all gems but his hit to miss ratio is very good. He's still capable of writing great stuff as witnessed by his Oscar winning work with 
Midnight in Paris
 last year.
http://en.wikipedia.org/wiki/Woody_Allen_filmography

Here's Woody sharing how he writes