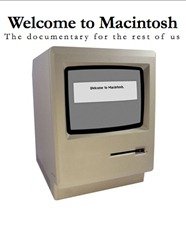 Even though I'm not and have never been a Mac owner, I thoroughly enjoyed the documentary "Welcome to Macintosh". I found the well-made film extremely informative and entertaining, perhaps because I'm just a huge fan of technology and these types of things get me excited quite easily. For example, I've written about my love for other projects like this, the first great technomentary, Triumph of the Nerds (1996) and the movie "Pirates of Silicon Valley".
At the heart of the Apple Story (not really just the Mac), sits Steve Jobs. While he did not take part in the documentary, his presence resonated throughout every frame. His tremendous impact is clearly illustrated on all of the individuals interviewed as well as the company and the industry as well. I've shared my thoughts and feelings about Steve Jobs in recent posts "Genius" and "Clash of the Titans".
My favorite segments of the documentary were:
The man who has the world's largest collection of old Apple and Macintosh computers and just about anything else they made! He had them crammed in every nook and cranny! Amazing stuff.
The Hollywood film editor that shared how the Mac with Final Cut allows him to do the work of six or seven film editors.
Jim Reekes was hilarious and a blast in every piece he contributed. He share the history of the startup sound for the Mac where his composition ultimately became the classic startup sound. I loved his quote "People think it was like going to work at Oz but in reality it was like a sausage factory. I mean, you really don't want to know how these things were made".
Guy Kawasaki's funny takes on the good times and bad times at Apple. I especially liked his story about having a 44,000 mailing list which was basically the first blog.
Here's the trailer for Welcome to Macintosh