I've always thought that it would be so much fun if we could go to the movies online with a bunch of our social networking friends. We could watch a movie and chat while we watched it in real-time. I've actually sent the suggestion to Hulu, one of the best online video services available today but haven't heard a peep or tweet from them yet.
Well, while researching another piece on HD video resources for Mashable, I stumbled across a new service from CBS called the CBS SocialRoom which delivers exactly what I've been looking for! I've only tried it a few times so I'm still not sure about all of its limitations such as how many people can it support in one room nor how it will scale as more people join a room. However, from what I have witnessed, it's been rather fun and worth a look.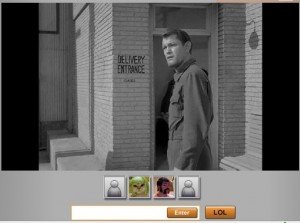 The good news is that you don't have to join yet another service because CBS allows anyone to jump into a room with a temporary nickname which was a smart move on their part. More sites should allow visitors to sample their services without requiring signing up.
Once in, you will see a good selection of TV shows to pick from. Obviously, they're all CBS programs such as CSI, The Unit, Survivor, Amazing Race and others. In a clever move, they've also included some old shows too such as Star Trek, Twin Peaks and my personal favorite, The Twilight Zone. There are also some really crowd favorites such as The Love Boat and Dynasty which lends itself for great campy fun with online groups of friends.
Besides chatting, you can all take turns doing other things as well such as throwing tomatoes at the screen or other items like hearts, kisses or darts. If things get to be out of hand there's an escape button that'll let you go to your own private room to watch the movie which is a nice touch.
All this reminds me of Mystery Science Theater 3000 which had the host and his two robot sidekicks talking throughout a movie. Most of what they said was hilarious stuff which explains why it was on the air from 1988 to 1999. Of course, most of the conversations we will have won't be nearly as clever as MST3K but I know there will be plenty of entertaining moments to make it all worthwhile.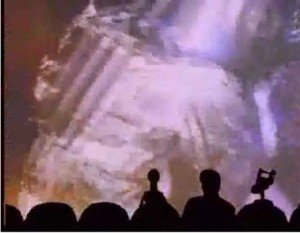 CBS isn't the first to attempt this type of social room service. Meebo, the universal instant messenger service released Meebo Rooms a while ago where groups of people can chat in the same room and watch the same videos that anyone could share by simply copying and pasting the video URL. However, the big difference with this service is the fact that everyone watches the videos at their own time and not as a group at the same time as CBS Social Room does. That's a big difference because everyone needs to see the same portion of the video in order for all of the comments to make any sense at all. So, it's a matter of close but no cigar to Meebo Rooms. Still, they were on the right track and came very close. They can easily add the ability to watch videos in real-time though as a group. We'll see what happens there. Here's a sample room I created called Film Lovers which has the entire "Pirates of Silicon Valley" playing 24/7.
I think this will become a very popular feature on many sites eventually. As mentioned earlier, I think Hulu would be the perfect place for watching movies with friends online. YouTube would be great too of course. It's all part of the trend towards making browsing more social. New browsers such as Flock strive to bring co-browsing to the masses by integrating social networking sites with the browser. Others like SocialBrowse add a plugin to your existing browser so you can share links and stories. For more on co-browsing checkout "Collaborative Browsing".
The future of the web involves real-time collaboration whether its for business (online presentations and meetings) or for pleasure (watching movies and chatting with friends).