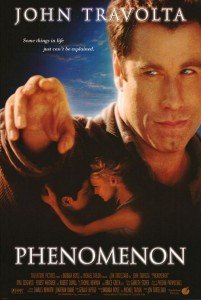 One of the most underrated movies has to be "Phenomenon" starring John Travolta. It is one of my all-time favorites. There are so many things that I love about this movie. The performances by everyone in the cast, especially Travolta and Forest Whitaker. Robert Duval was also amazing as the doctor. I loved this story from Gerald Di Pego and the direction from John Turteltaub who did another favorite of mine the year before with "While You Were Sleeping" (1995) starring a young Sandra Bullock.
The music was another incredible part of the movie. It's no coincidence that the composer was Thomas Newman, once again. You will see many of my favorite movies on here will have soundtracks by Mr. Newman. He's like our generation's Mozart. The running theme throughout the movie whenever John stares at the trees swaying in the breeze are some of my favorite scenes ever. They are mesmerizing and so soothing. Even after all these years, I still catch myself doing the same thing myself every once in a while on a beautiful way.  I love the way John's character describes this feeling to his lady love (Kyra Sedgwick, who was also precious), comparing it to the feeling a parent has when comforting a baby in their arms. Here's the scene which also includes the funny line when she asks "Were you expecting to get lucky?" and he replies "Only hoping".  This video then continues to the finale of the movie so don't watch if you plan to see it for the first time. It's a powerful ending, so sad and then so joyful.
There's also another unforgettable scene between the two of them that is breath-taking. He asks her, "Will you love me the rest of my life?" and she replies, "No. I'm going to love you the rest of mine" Amazing scene once you know the context of the situation. It made me gasp. I also liked the line just before that one when Lace says "I tried so hard not to love you" and George asks "How'd you do?" and she replies "TERRIBLE!"  Here's that whole wonderful scene

Here's a poem I wrote that was inspired by the movie, especially the scenes with the trees dancing in the wind to Thomas Newman's beautiful theme. I call it "The Tops of Trees". (here's the MP3 file).
Here's the Trailer

Possibilities scene

Also worthy of note is that Eric Clapton's "Change the World" came from this movie and its glorious soundtrack! It was a major number one hit and a perfect way to end the movie.
Here's the full movie which is on youtube for now anyway