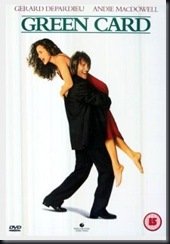 Green Card (1990) is a smart, touching love story. Andie MacDowell and Gérard Depardieu were perfect as the mismatched couple thrown together by fate and destiny. Both characters had their reasons for putting up with the other but in the end they discovered much to their horror that they had fallen for them.
The mark of an excellent movie is the strength of the supporting players. The movie is only as strong as its weakest cast member. Everyone was wonderful in their role, especially the best friend played by the lovely and talented Bebe Neuwirth.
Director Peter Weir does a masterful job directing this gem. While he's not done many films in his career (17 total and none since 2003), he has directed some of my favorite movies ever! He's also done Witness (1985), Dead Poet's Society (1989), Fearless (1993) and the Truman Show (1998). All movies I have or will cover in this blog. I love the writing too. Here's the entire script. One of my favorite scenes, besides the ending of course, is when Bronte reads George's letter about the restless elephants.
Africa, Sunday.                   
Chérie...                    
it is hot here in Africa..and very green.                 
The elephants have been restless again. I think it must be the drums. 
It makes them crazy. I miss you every day..and I ask the same question:
When are you coming, chérie?

On a personal note, I think I felt an extra connection to this movie because I'm (sadly) a little too much like George, the Italian version of course. I love my coffee and I have a bad habit of humming all the time for no reason, as if I am composing some masterpiece in my head. While he was called an oaf, I've been called a big galoot on many occasions.
Here's the ending of this brilliant movie. The soundtrack as in every outstanding movie plays a big part.
The best song being Storms in Africa by Enya.
Just because the song plays such an integral part of the movie I've decided to include the music video for Enya's Storms in Africa.