I watched Michael Phelps win his 8th gold medal of the 2008 Olympics tonight, thus breaking the record of seven Gold medals in a single Olympics set by Mark Spitz in 1972! It was another close race but Phelps put the USA in the lead on the third leg of the race and Lezac brought it home again.
It's been an exhausting week as a fan pulling for Phelps so I can only imagine how he must feel at this point. He raced 17 times and still managed to go eight for eight in golds! He now has 14 gold medals in two olympics plus a silver and bronze for a total of 16 medals. He's won 13 in a row, by the way.
Here were the eight events he won:
400 m  individual medley -World Record
4 x 100 m  freestyle relay – World Record
200 m freestyle – World Record
200 m butterfly – World Record
4 x 200 m freestyle relay – World Record
200 m individual medley – World Record
100 m butterfly
4 x 100 m medley relay – World Record
It took 36 years for someone to break the record and I don't believe anyone will ever break this one. The level of competition is extremely too difficult these days and the schedule is incredibly grueling should anyone be crazy enough to even attempt it again. I feel fortunate that I was able to witness this in my lifetime.
This Bio on the Olympic website sums it up best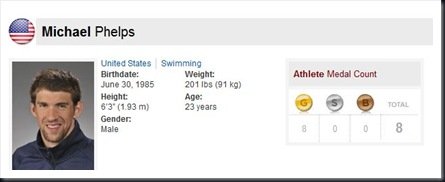 Here's the incredible ending for the race Phelps won by just 1/100th of a second!

Make avatar