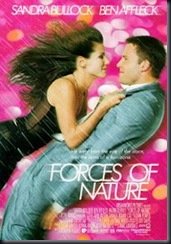 I love it when there's a magical moment in a movie that you didn't expect. One that comes out of nowhere like the following scene from "Forces of Nature" starring Sandra Bullock and Ben Afleck. The story itself is a classic case of a man experiencing a severe case of cold feet before his impeding walk down the aisle. His situation intensifies when he endures a near death experience as his plane almost crashes. Things only get worse as he travels with Sandra Bolluck who was the passenger that sat next to him on the plane. He starts to fall for this wild and whacky girl much to his dismay.
Spoiler Alert
Anyway, just when you think you've figured out the movie and expect the usual predictable Hollywood ending you get blind sided with the following scene between the fiances after his crazy adventure. Watch closely as they discuss their future in the midst of a hurricane in what appears to be a protective bubble.

Here's the Trailer
Conclusion
I believe everyone has a moment of cold feet before taking the plunge of holy matrimony (or at least should!). It's a monumental step to take and it's only natural to become extra reflective during such a time. This movie does an excellent job of capturing the inner turmoil that men AND women experience before their big magical day. They showed that the bride to be was also feeling feet of ice which was fair and realistic.