Exciting stuff. For 200 years it was believed that there was only one portrait of Edgar Allan Poe's wife Virginia who died tragically young of consumption at age 24 but new discoveries have unveiled a few more including this beauty. As it turns out, the shy, demur bride was a model and posed for many portraits. It was kept a secret because back then being a model or actress (Poe's birth parents' profession) was akin to being prostitutes (because many of them were). She was indeed a beauty and worthy of all the classic tales and poems she inspired her Eddy to write. For more here's an excellent link.
Here's her death bed portrait which was long believed to be the only portrait of Virginia.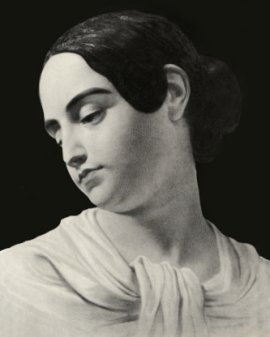 Here is the recently discovered color portrait! Isn't she divine!
Here is another one she posed for
This might be Virginia too. By famed painter Thomas Sully… girl reading