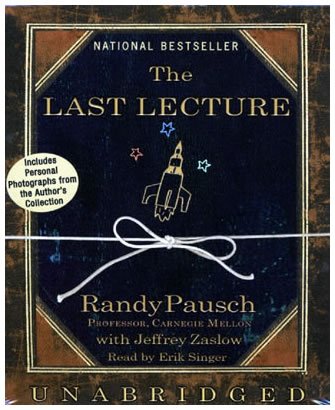 Randy Pausch's "The Last Lecture" is an experience that will change your life forever. He's the professor from Carnegie Mellon University that is dying of pancreatic cancer. The "Last Lecture" that he gave to his class has become the stuff of legends and deservedly so. Much like the lessons that Morrie taught us in "Tuesday with Morrie", Randy shakes us all to our inner core with an eye-opening and heart-wrenching talk about the meaning of life, not death. He talks about dreams and love and the joys of living life to the fullest. It is an unbelievably moving experience so brace yourself.
Randy has published a book called "The Last Lecture" which chronicles his amazing life. Here's his website and the transcript.
Here is his appearance on Oprah which includes a scaled down version of his last lecture as well as an interview with Randy who shares how he learned about his cancer and much more with Dr. Mehmet Oz and Oprah.

Here is the complete and actual "Last Lecture" that Randy gave to his last class at the Carnegie Mellon University.

Randy's Commencement Speech at Carnegie Mellon University on May 18, 2008

Here's a special with Diane Sawyer on Randy

Here's Randy with Time Magazine

Here's Randy's final words with the Wall Street Journal

***Latest Update***
Randy finally passed away on Friday 7/25/08. Even though we all knew it was coming, it was still a crushing blow. I shared the news immediately on Twitter and it spread like wildfire.