I'm a lifelong fan of the New York Yankees so I am biased when it comes to Mariano Rivera. However, this is strictly about the numbers and statistics.
As everyone knows, Rivera is the all-time leader in Major League history for the most saves which is now at 648 after Mariano notched his 40th save of the season.
The previous mark was 601 by Trevor Hoffman who retired in 2010. To put this mark in perspective, no one else has ever even hit the 500 save mark besides these two closers.
I was just wondering why Major League baseball has not formally embraced a new statistic for closers that would track their save percentage. It would be similar to the NHL's save percentage for goalies. You simply divide the number of saves made by the total number of save opportunities. In the past, you might see a statistic with the initials BS in the boxscore which stands for Blown Save. However, if you go to the MLB statistics page such as for Rivera here you will not see the BS stat but
something called SVO which stands for Save Opportunities. Thus, Rivera has made 652 saves out of 732 chances for a career Save Percentage (SP) of .891%!

So how does this new stat stack up against Trevor Hoffman? Sure, Mo had mo' saves but did he have more chances? Who was more efficient and more reliable when it came to saving the day? The numbers don't lie.

Trevor's stats are just as amazing as Rivera but he falls just short of the legendary closer. He had 601 saves out of 677 chances for an amazing .888% Save Percentage (SP)! So the verdict is in…
Rivera      652 saves  .891%
Hoffman 601 saves .888%
The Post Season
Let's discuss the performance of closers in the postseason. After all, the pressure truly intensifies in the playoffs so your closer can determine whether or not your team wins a championship or not. So, it's not a surprise that Mariano Rivera was part of 5 teams that won the World Series (1996, 1998, 1999, 2000 & 2009). Rivera earned his reputation as one of the greatest closers because he delivered so many times in the clutch when the heat was at the highest level.
However, it must be noted that Rivera was not perfect. He had some very painful blown saves that cost the Yankees perhaps a few more championships. As a Yankee fan, I remember those moments all too well.
First, 1997 when he first became the Yankee closer. In the previous season when the Yanks won the 1996 World Series he was not the closer, he was the setup man for the 7th and 8th innings for their closer John Wettland. Well, in 1997 the Yankees were defending their title when they encountered the Cleveland Indians in the playoffs and lead late in the game before Rivera gave up the lead and blew the save. The Indians went on to eliminate New York and many believe it lead the Yankees to focus on avenging this defeat by having one of the greatest seasons ever in 1998 by winning 114 games in the regular season and another 11 in the postseason for a historic 125 wins!
Rivera was flawless as closer from 1998 to 1999 and 2000 as the Yankees won three straight titles thanks to his shut down performances. Then came the devastating game seven of the 2001 World Series when Rivera could not hold a 2-1 lead in the bottom of the 9th inning. It would've been New York's 4th in a row and 5th in 6 seasons.
Rivera then experienced the worst postseason of his entire career in 2004 when he blew 3 games including the 2 9th inning games vs the dreaded Boston Red Sox! I will never forget how much that hurt as the Yankees lead 3 games to none and they were 3 outs away from sweeping Boston… then all hell broke loose as Mariano forgot how to close games.
Fortunately, Rivera never blew another game after that Red Sox nightmare the rest of his career, finishing with an awesome 42-5 .894% save percentage in the postseason which was even higher than his already gaudy regular season SP of .891%!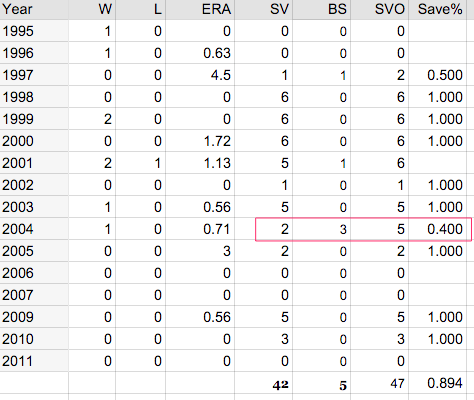 Trevor Hoffman's Postseason Career
Trevor Hoffman did not get many opportunities to perform in the postseason so his numbers are dwarfed by Rivera. However, we can take a look at his best chance to shine in the playoffs which was 1998 when his Padres went all the way to the World Series where they faced the juggernaut Yankees after their 114 win season. Hoffman has an amazing season with 53 saves and only 1 blown save!!! However, he wound up blowing 2 games in the 1998 postseason, twice as many blown saves as the regular season. He saved 3 of 5 chances that postseason.
Dennis Eckersley's Postseason Career
Eckersley experienced a lot more postseason action than Hoffman because of his tenure with the amazing Oakland A's who went to three straight World Series from 1988 to 1990 (but only won the one in 1989). Still, he was almost perfect whenever he was called upon. He saved 15 out of 16 games for a .938% SP!

What about Eric Gagne's postseason record? Well, even though he did pitch in the postseason a handful of times he was never given a save opportunity so his record is zero for zero as a closer. He had a 0-1 won lost record too.
The Best Seasons and Stretches
Now just for fun I want to include what I think is the best short stretch for a closer ever which was by Eric Gagne whose career was too short
to contend with the big boys. However, while he didn't shine as long as these other stars, he did shine extremely bright at his peak!
Take a look at these numbers (Notice how MLB used the BS stat for Blown Save back then)
Gagne had an amazing 3 year run where he saved 152 games out of 158 for a .962% save percentage!
Sandwiched in between is his epic season for the Dodgers where he saved all 55 games without a blown save!
If we include the next two seasons which were shortened by injuries but still included an unblemished mark of 9 saves without a blown save that improves his totals for 5 years to 161 saves out of 167 chances for an amazing .964%!
Unfortunately, Eric was plagued with injuries and tailed off big time until he was all done. His final season saw him blow 7 games which was an aberration because he had only blown 10 games over the previous 7 seasons! Still, his final career save percentage was very impressive: 187 saves and 17 blown saves for .916%!
Dennis Eckersley
One of the closest rivals to the short stretch of dominance that Eric Gagne had for three seasons has to be Dennis Eckersley who began his career as a starting pitcher and later switched to relief with astonishing success. From 1990 to 1992 Dennis made 142 saves out of 155 chances for an impressive .916%. However, Gagne was 152/158 for .962%!
As for Eckersley's career totals, let's take a look see.
The Eck had 390 saves in 461 chances for a stellar career save percentage of .846%


By the way, if you were wondering what was Rivera's best three year period it was 2007 to 2009 when he had 113 saves in 120 chances for an SP of .942% which was outstanding but below Gagne's but ahead of Hoffman's and Eckersley's best 3 year periods.
2007  30 – 4
2008  39 – 1
2009  44 – 2
Total 113-7  .942%
Trevor Hoffman's best 3-year period was most likely 1998 to 2000. By the way, 1998 was the year his Padres went to the World Series and ironically lost to Rivera's Yankees who won a historic 125 games….114 during the season plus 11 in the postseason, the most ever. Trevor had his best season ever in that World Series year with 53 saves and only 1 blown save! Unfortunately, Hoffman blew 2 games in the postseason which was twice as many as he had blown all season long (he saved 3 of 5 games).
As for Trevor Hoffman's 3 year totals:
1998  53-1
1999  40-3
2000 43-7
Total 136-11 .925% which puts him 3nd behind Gagne and Rivera but ahead of Eckersley.

Here are all four 3-year periods in a comparison matrix

Bobby Thigpen
Thigpen held the major league saves record for a single season from 1990 to 2008 with a gaudy 57 saves in 65 opportunities for a .877% save percentage. His career save percentage for 201 saves in 253 chances was .794%.
Francisco Rodriguez
The Angels pitcher broke the 1990 saves record of 57 by Bobby Thigpen with 62 in 2008. He saved 62 of 69 games for an .898 save percentage. As for his career mark which is still ongoing, he has made 386 saves out of 451 opportunities for a career average of .856% which is awesome but below Rivera's mark of .890%.
2015 Update:
The 2015 baseball season has just ended and the closer from the New York Mets Jeurys Familia set a new record by becoming the first pitcher to ever suffer three blown saves in a single World Series. This was an incredibly shocking occurrence because this closer only had 5 total blown saves all season long! He saved 43 out of 48 save opportunities for an outstanding SP of .896%!
All this makes his epic failure in the big dance all the more unreal. Before his 3 meltdowns vs the Kansas City Royals, he had been 5 for 5 in save opportunities in the postseason vs the Dodgers and Cubs. He wound up saving 5 of 8 for an SP of .625% which is barely above pedestrian and nowhere near his stellar regular reason SP.
Truth be told, not every blown save is the same. For example, Familia's first BS in game one in the 9th inning was a traditional type where he gave up the lead by allowing a homer (he had not blown a game since July!). The next two blown saves were mostly bad luck and bad defense as his 2nd baseman committed an error that erased an 8th inning lead and his first baseman threw wildly to home plate that allowed the tying run in the 9th inning of game 5 that they would later lose and ultimately ended their otherwise fantastic season. Still, much like a win is a win, a blown save is a blown save.
These two photos tell the tale so well for the life of a big time closer. The ecstasy and the agony.
Summary:
While other stats are important such as the ERA and the WHIP (Walks-Hits per Innings Pitch), I think when it comes to closers the most important stat should be the SP (Save Percentage). How many times did this closer do his job? Period.