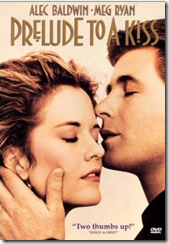 "Prelude to a Kiss (1992)" is one of the most underrated movies ever. I love it for many reasons. Alec Baldwin and Meg Ryan were absolutely fabulous in it. The dialogue is incredibly witty and so realistic. I love the way they fell in love right before our very eyes. Too many movies never show the reasons why a couple wind up together but that is crystal clear in this movie.
The other thing I really love about this story is the entire philosophical question about who and what do we fall in love with. It isn't just the human form or body as we see in the movie thanks to a strange twist of fate that forces Rita to switch bodies with an elderly gentleman. Even though Alec Baldwin's character Peter sees Rita physically, he knows something's wrong. He can sense that it's not really her anymore. Somehow he can feel that it's not really her deep down inside. It's such a wonderfully unique way of looking at love.
I think Meg Ryan and Alec Baldwin were wonderful together in this gem. I know we all love Meg with Tom Hanks but she was perfect with Alec here. The ending, while not surprising, was extremely satisfying.
By the way, look for a delightful performance by Ned Beatty & Patty Duke as Meg Ryan's parents who were hilarious. The bulldog tattoo scene cracked me up. So did Patty Duke when she reprimanded her daughter for drinking so early in the morning but then followed it with "ok then we'll have one too".