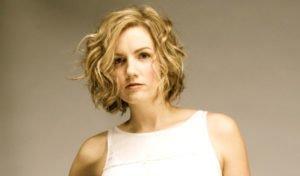 I love "Make a Noise" by Katie Herzig which I just heard in the background of a new promotional video from Google for its G+ social network. It was also used at the end of an episode of the TV series called Private Practice.
Everything about this song is beautiful, the vocals, harmonies and especially the lyrics and message of the song. It's about finding your voice and making a noise in this world. We all have a reason for being and a purpose in life. Most never find their calling but many special people do. We have to try to make the most of brief sojourn on this planet. We must make every second count.
I know it sounds contradictory but life itself  is full of dichotomies and opposites like light & darkness, love & hate, joy & sadness, peace & war. In our life, we should strive to be both peaceful and disruptive at the same time. We need to make the balance of achieving a harmonious coexistence with our fellow Man while knowing when to speak up and make a noise when we want to make a change in the world. We might not always make that change happen but we can't be afraid of failure. We cannot risk being silent. Imagine what the world would be like if no one took the chances to fail? Thank goodness for the rebels and risk takers. Be one too.

"Make A Noise"
Look up
You see the sky on fire
Look out
The water's getting higher, now
Believe, that you can change the world
Your dreams, have been living in a code of silence
So let them out
Find your voice, find your voice
Make a noise
You try, to find the words you want to say
You might, be looking much too far away
To recognize, we're all disguised
Find your voice, find your voice
Make a noise
Oh, we all were born before the war, but worlds collide
Look at all the people fighting for the same side
We all were born before the war, but worlds collide
You can't have the peace you're looking for without a fight
Oh, we all were born before the war, but worlds collide
(You see the sky on fire)
Look at all the people fighting for the same side
(The water's getting higher)
Oh, we all were born before the war, but worlds collide
(You see the sky on fire)
If you see the world you want more, then make it right
(The water's getting higher)
You see the sky on fire
The water's getting higher
[repeat]
Find your voice
Make a noise…
Don't run away run away…
Don't run away
Don't run away run away…
Don't run away