I stumbled across this photo of Isaac Asimov, one my favorite authors of all-time and supposedly his first computer, Radio Shack's TRS-80.
I don't know how true all of this was but it's such an interesting photo that I had to share it.
It's important to note that Asimov was one of the most prolific writers in history.  However, can one assume that the very same technology that he wrote about actually helped him write faster and thus increase his body of work? If we are believe this ad then Isaac apparently ditched his trusty underwood typewriter for this new age machine which was released circa 1977. He was approximately 57 at that time and would go on to write for another 15 years until his passing in 1992 at age 72. He's attributed to writing and/or editing over 500 books and some 9,000 letters! How many did he complete after getting introduced to the word processor and computer is anybody's guess at this point.
Still, it makes you wonder how many more works we would all be blessed with if other great writers had the technology we take so much for granted these days. Of course, that's assuming that technology actually does in fact increase a writer's production volume. Some would argue that technology not only has impacted the quantity of writing but also the quality of writing thanks to grammar and spell checkers and all of the auto-insertion and auto-correction features available in word processors.
In any event, no matter what the real deal was behind this brilliant piece of marketing, I like the idea that Isaac Asimov, the man behind the I, Robot series actually used technology to create his masterpieces.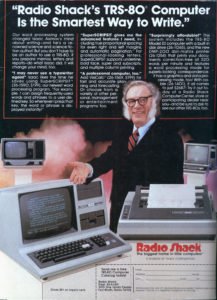 Note: Just for grins, here's a clip from the major motion picture adaptation of Asimov's "I, Robot" starring Will Smith.