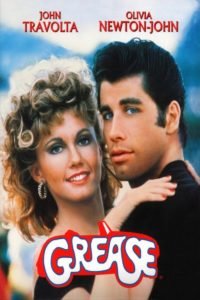 Grease (1978) is a classic musical about the 50s. John Travolta and Olivia Newton-John were wonderful in this ultimate coming of age story told from both points of views, from the warped and exaggerated male perspective and the twisted and romanticized female angle. The best example demonstrated in the fantastic "Summer Nights" number where Danny and Sandy tell their friends what happened in totally different ways.
Here are the best scenes and numbers from the movie that is now over 30 years old!
Contents:
Summer Nights
Look at me I'm Sandra Dee (where her friends mock her wholesomeness)
Greased Lightning with all of its teen angst and raunchiness in tact
Hopelessly Devoted to You (Sandy pines for her Danny)
Danny pines for her Sandy after he tried to make a move on her
Goodbye to Sandra Dee (Not a fan of this part where Sandy decides to get rid of her sweet innocence in order to win her man. Not a good message)
You're the One that I Want (The new naughty and sexy Sandy and thankfully the kinder, gentler Danny who decided to be more of a jock in order to win his woman's heart)
We Go Together is a wonderful finale to culminate the end of the movie and high school. High School Music echoes this ending with their own "We're all in this together" to end their modern version of the Grease musical.