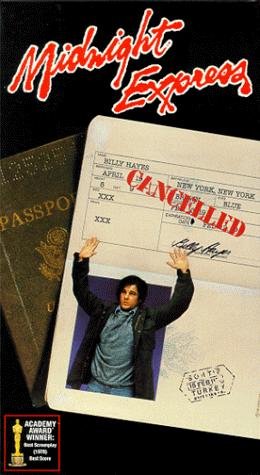 "Midnight Express" impacted me a major way as a young man. It was a powerful film written by Oliver Stone before he became an Oscar winning director that told the true story of Billy Hayes who was arrested for trying to smuggle drugs out of Turkey. His nightmare experience in Turkish prison was a gripping and disturbing experience that I've never forgotten. His escape back to America was one of the most exciting sequences I've ever seen on film.
Also powerful was the nerve wracking scene at the airport when Billy gets arrested. Great acting by the late Brad Davis who died in 1991 at the age of 41 due to AIDS contracted during drug addiction in 1979.
I also loved the soundtrack by one of my heroes, Giorgio Moroder! The main theme, "The Chase", is one of the best movie themes ever. The love theme is also wonderful.  I've included these tracks in the video playlist below along with a bunch of scenes from the movie and interviews with the real Billy Hayes.