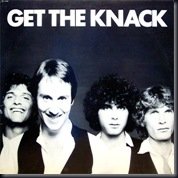 I just learned that the Knack's leader singer Doug Fieger died at the age of 57 from lung cancer on February 14, 2010! Sharona, the girl he loved that inspired his biggest hit, My Sharona, was by his side during his final days. Here's an excellent piece from NPR about the real Sharona.
I loved The Knack who blasted all the way up the charts in 1979 with "My Sharona". It was a steamy and infectious song that became the number one song of the year according to Billboard Magazine thanks to its six week reign at the summit.  The leader singer wrote the song about his then girlfriend with the unique and unforgettable name, Sharona. Sadly, their relationship didn't last much longer than the song's popularity but the memory of the song will last forever. The good news is that they always remained good friends until the very end.
Update: Here's an excellent documentary called "ABOUT MY SHARONA" where the members of the band and Sharona herself are interviewed about the song and that magical period of time.

Here's one of the last interviews of Doug Feiger

By the way, 15 years after the song originally hit the scene, the song enjoyed renewed success when it was used prominently in a movie called "Reality Bites" (1994) starring Ethan Hawke, Winona Ryder and Janeane Garofalo.
Here's the original music video for My Sharona by The Knack

Good Girls Don't (But I do) was their follow-up hit single. Top 10-ish song, but not a number one blockbuster.
Baby Talks Dirty was the lead single off their followup album to their debut. I remember being disappointed and knowing deep down that it was the end for the Knack when it came to long-term commercial success anyway.
The Knack's Last Hurrah
By the way, a few years ago they performed on an ill conceived reality show called "Hit Me Baby One More Time" where former popular acts competed against one another and the audience picked the winner. They each did their biggest hit and a version of a modern hit. The Knack did My Sharona and then a fabulous rendition of Jet's "Are You Gonna Be My Girl". Unfortunately, they lost to Vanilla Ice! Ouch.
Here's their performance of MY SHARONA and their version of ARE YOU GONNA BE MY GIRL which was awesome!